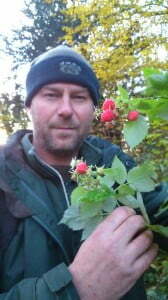 I AM still trying to work out if we are in winter or are we experiencing an extended autumn. The reason I say this is because the other day we had a little cold snap and it was the first time since last winter I had to scrape ice off of my car windscreen in the morning. But it was not anything major merely a thin layer of ice. I thought winter had set in at last. It is time to start wrapping ourselves up in thick clothing and eat the winter foods such as stews. But the other day whilst I was leading a wildlife walk here at Stoke Park I heard something that made me stop in my track s. "Listen"I said to my guests, "Can you hear that bird singing? It's a song thrush and it's singing its spring courtship song." Then we heard a blackbird doing the same and then a wood pigeon. "This is not right,"I said. The reason is that we are experiencing a warmer autumn and the wildlife will respond accordingly. They are all being tricked into thinking spring has arrived early. As we walked on we found some spring plants starting to grow too. "It's all down to soil temperature,"I explained. Regardless of the time of year as soon as the soil temperature reaches 16 degrees and above seeds will start to germinate and start to grow. "Look over here,"I said. "This is one of the first plants you are likely to see in the spring around February or March." It was the Arum Lily or also called the Lords and Ladies and it should be fast asleep at the moment. Then we came across some wild garlic beginning to grow. Sadly when we do experience cold temperatures, and we will, the plants that have sprouted will be killed off by the frost . And they will not re grow again next spring. As we carried on walking through the woods again we were all stopped in our tracks when we saw a raspberry bush, pictured , dripping with lots of bright red fruits. "Let's just have one each,"I said "And we'll leave the rest for the birds." Berries are a rich food source for them. So we all had a single refreshing and tasty out of season raspberry and went home full of the joys of spring
To book an event Please visit www.steveengland.co.uk.
Steve England is an (RHS) horticulturist, amateur naturalist and chairman of the Stoke Park steering group. He lives in Lockleaze and has spent his whole life at Stoke Park from playing there as a boy to studying its history, wildlife, and prehistoric past. Contact him at newlook388@aol.com.