In 2013, I was inducted into the Bristol Walk of Fame at Bristol Zoo in recognition of my work as a local conservation educator. In the same year, I was runner up in the UK's 'Council for Learning outside the Classroom's' "Lifetime Contribution to LOtC" award. I have been recently awarded the Avon & Somerset Police Commissioner's 'Pride Award' for my work supporting young people with a wide range of previous skills and experience, and engaging young people in positive outdoor learning activities at Stoke Park Estate, and was awarded Bristol's Green Volunteer of the Year award by the Bristol Parks Forum.
Some information about some of my notable achievements are explained in more detail below! Please get in touch to find out more or how I can bring this experience to your groups and organisations.
Bristol Walk of Fame Award
The Bristol Walk of Fame at Bristol Zoo celebrates the city's most renowned people, places and icons from across the historic, creative, sporting and wildlife spectrum. The Walk of Fame is a trail of 69 specifically designed plaques within the grounds of the zoo, and includes winners voted for by the public – you can see all of those included in the trail here (document will download).
In 2013, I was thrilled to have been voted by the public to join this list of wonderful and inspiring people that had been chosen before me, and my plaque now stands at position number 64 within the Zoo Gardens.
Avon & Somerset Neighbourhood Policing Awards
The Avon and Somerset police Neighbourhood Policing Awards (now known as the Be Proud Awards) are given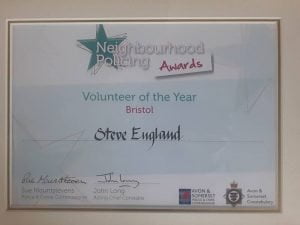 to acknowledge and rewardofficers, staff and volunteers who have worked in their communities to improve safety and reduce crime, alongside victim support and fighting crime in the constabulary.
In 2014, I was awarded the Bristol Volunteer of the Year award by Avon and Somerset PCC, given to individuals who assist the police force in addressing issues that matter most to local people. I was awarded the Volunteer of the Year award for my dedication to supporting the police in their work with young people, and helping young people stay out of, or find a way out of crime in the area through activities, education and outdoor learning.
Awards for Outstanding Contribution to LOtC Lifetime Achievement Shortlist
The Awards for Outstanding Contribution to the Council for Learning Outside the Classroom is given to individuals and teams of people who are recognised to be committed to ensuring young people have inspiring experiences outside of the classroom. I was thrilled to have been shortlisted with 3 other people for this award.
LOtC said, "Steve knows the importance of inspiring young people with the value of nature and encouraging them to get outside and protect and respect their local area. He has encouraged young people to get involved with practical tasks… and has a natural talent to engage with an audience and share his enthusiasm for nature. His knowledge is extensive and wide ranging."
South Gloucestershire Council Chair's Community Awards
The South Gloucestershire Council Chair's Community Awards were established in 2003 to recognise and celebrate the valuable contribution that local people and volunteers make to life in South Gloucestershire and has since become an annual event.
Nominations are made by the public, and I was super pleased to have been nominated and awarded the Community Award in 2016.
Get In Touch
For more information about my awards and recognition, do get in touch with me from my contact page.